Jewelry is special. That's the point of it, after all: for a piece to mean something special to the owner.
At Plante Jewelers we pride ourselves on creating pieces for customers that are truly unique. Oftentimes, customers come to us with older pieces they want redesigned because they don't fit or match their style anymore, or they were given as a gift and have great sentimental value but are simply not "right."
We love to take these sentimental heirlooms and create a piece that the owner is excited to wear. We also love to create pieces from scratch.
The process can take several weeks and is always done in concert with the customer, so that the final piece satisfies the customer's wishes and desires.
Let us craft something beautiful just for you.
A DIAMOND JEWELRY REMAKE: IT MEANS FAMILY AND FRIENDS
Before
This diamond watch belonged to Gerva's grandmother, who bought it in Switzerland. Though Gerva had worn it for a time when she was single, it simply wasn't her style. Also shown is her old engagement ring. Losing a diamond from this ring is what prompted the remake.
After
The center of this ring is the diamond from Gerva's original engagement ring. The dual band holds some of the diamonds from her grandmother's watch. To Gerva, it is a practical yet beautiful ring that matches her style, and reminds her of friends and family. "I never chose my engagement ring; my husband bought it for me as a surprise," she remarks, "but this is something that I designed and created out of sentimental jewelry from my mother and grandmother." To Gerva, the central diamond represents marriage and her husband, while the outer diamonds represent her friends and family.
Here's the whole story.
DIFFERENT PIECES, DIFFERENT TIMES
before
A diamond ring with a gold band that belonged to Ellen's mother, given to her mother by her father as a gift after he had been awarded the center diamond by the company he worked for. This ring was never Ellen's style, so although it had great sentimental value, she did not wear it. She also had a pair of diamond earrings that belonged to the owner's mother-in-law (one earring is shown here). Beautiful, but she already had a pair of diamond earrings. She wanted the diamonds from the earrings and the diamonds from her mother's ring incorporated into a single piece that matched her tastes.
After
An ornate white and yellow gold ring. The diamonds in the center were taken from her mother's wedding ring, and the diamonds on either side were from her mother-in-law's diamond earrings. "We were all wearing these diamonds in different pieces at different times," the owner said, estimating that the diamonds in the new ring were about 60 years old. But with an updated look and a more elegant style, the new ring is exactly her taste. "I didn't want a plain ordinary ring, I wanted a ring where I put it on and people would say 'Oh my God!' And that's already happened several times."
A REDESIGNED ENGAGEMENT RING: TO BE ABLE TO WEAR IT AGAIN
Before
A diamond ring with a solid gold band. This was Eileen's original engagement ring, which she had for 34 years. When her husband died, she stopped wearing it. Eventually, she longed to have it replaced.
After
A ring with a central diamond, and two rows of smaller diamonds around it. It has three rows of diamonds in the band. "It's a beautiful ring," Eilleen says. "I get lots of compliments on it. It's different. It's very different. People take notice of it." She has had the new ring for two years and is extremely satisfied with it. "Going on five or six years I hadn't worn it, so to be able to wear it again in a beautiful setting was a pleasure. And I had wonderful memories of the diamond in it."
Here's the full story.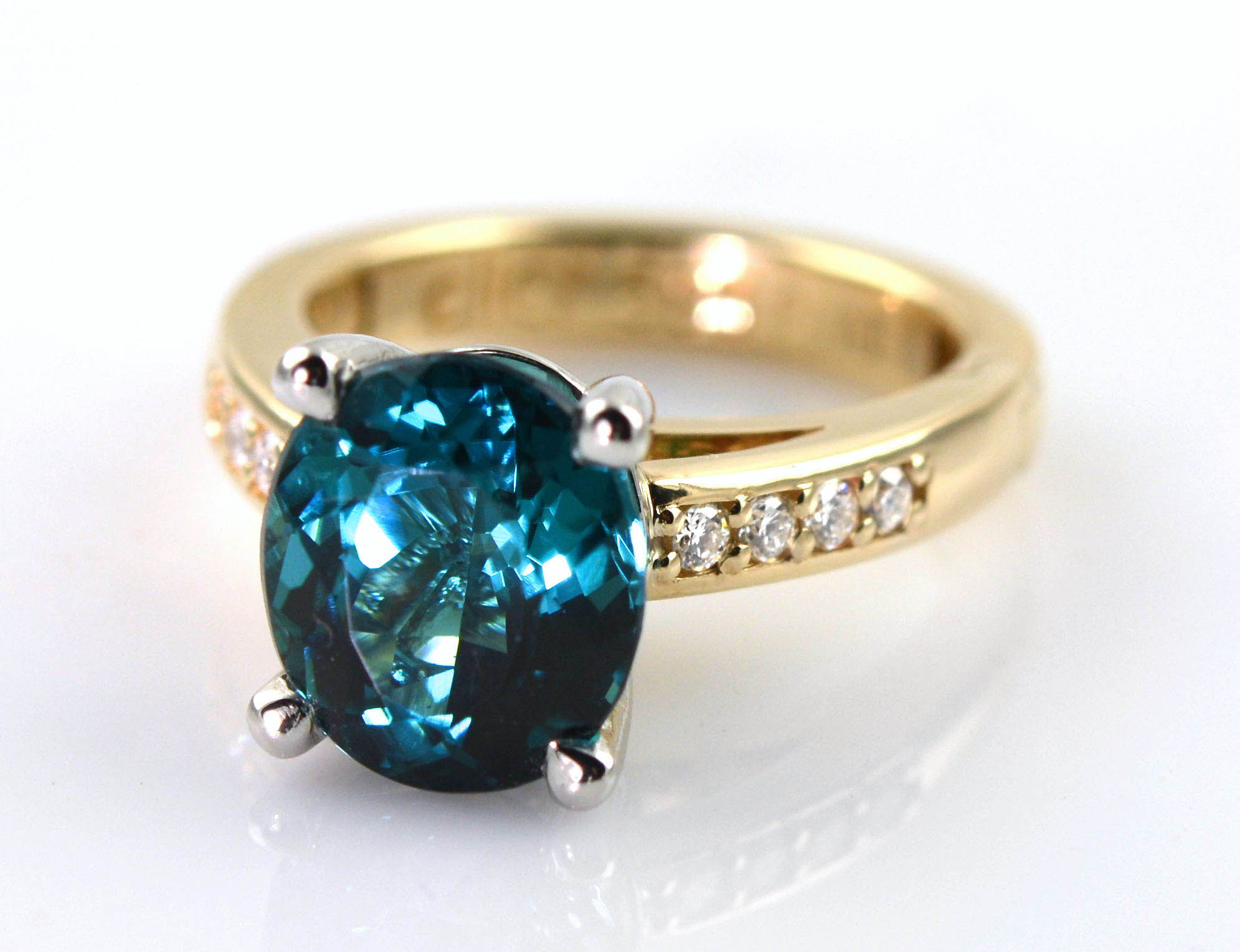 IN LOVE WITH COLOR
On one of their many trips to Plante's, a husband and wife were looking at all the gorgeous gemstones that we have, and the wife fell in love with a new one, this 2.90ct oval tourmaline from South America. The incredible color is what drew her in: an intense greenish-blue color with a lively sparkle.
After much thought, our designer Pam and the customers came up with a custom-made mounting in platinum and 14K yellow gold, with bead-set diamonds. The final detail is a hinged shank that allows the ring to pass over an enlarged knuckle while fitting closely at the base of the finger.
A VERY excited customer enjoyed every step of the process, and loves her new ring.
A VISION OF NATURE
When it was time to choose an engagement ring, this customer wanted to give his fiancee a ring that was inspired by their shared love of nature. He also wanted to use a purple amethyst as the gemstone, because she loves purple.
Our designer Pam discussed the gem choice with him, and because an engagement ring is to be worn every day, they decided to use a purple color-change sapphire instead of the amethyst. Sapphire is a harder gemstone, more suited to an engagement ring. This sapphire changes in color from a rich purple under incandescent light, to an intense purplish-blue in the sunlight. In keeping with the nature theme, the sapphire is cut with flower faceting. Pam designed a leaf-shaped mounting that is made of white and green gold.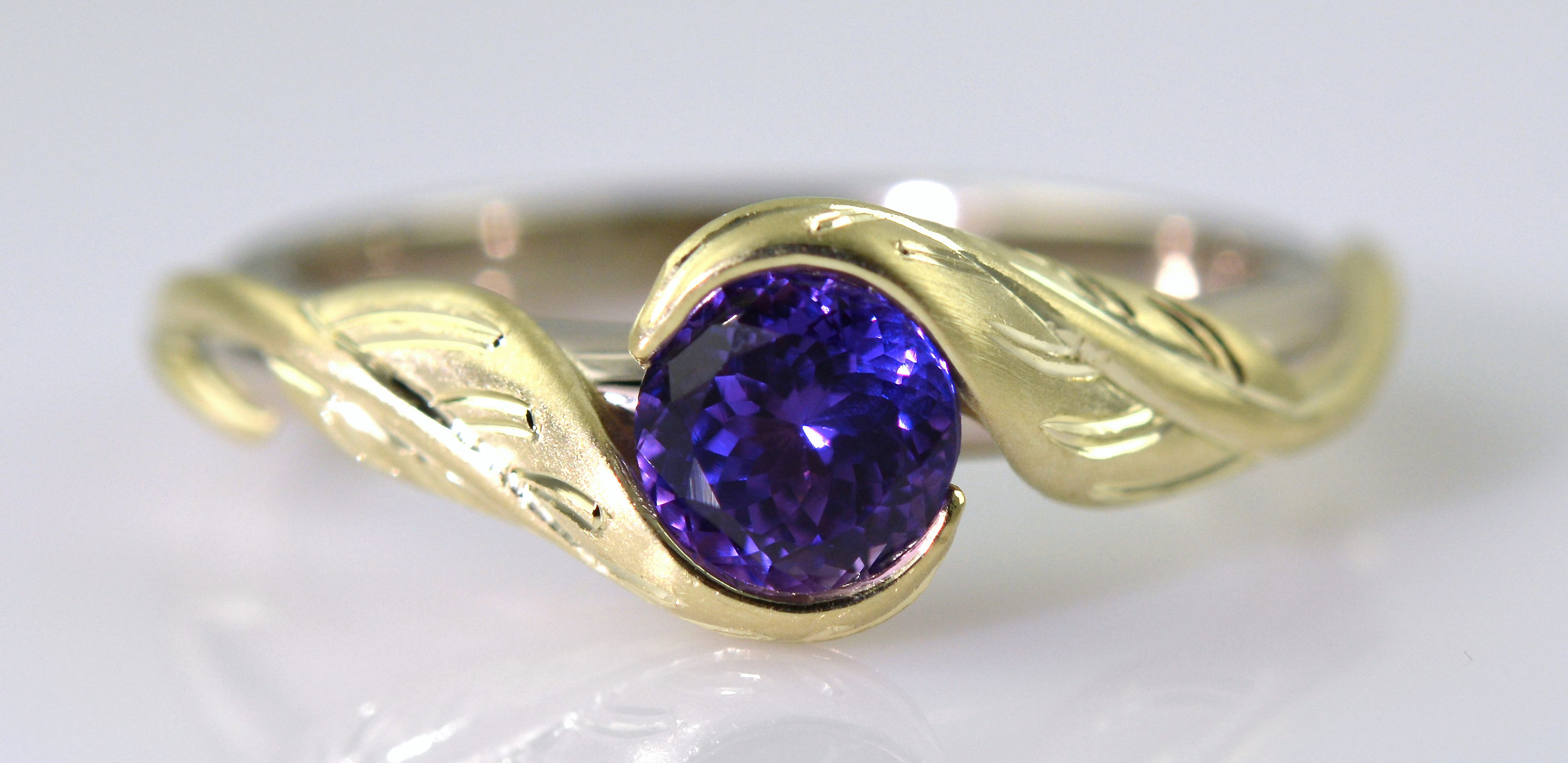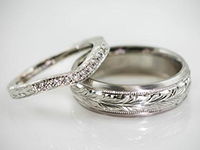 A LOVE STORY
This is the story of a man who was so in love that he wanted to have a wedding band that matched that of his bride-to-be. Her wedding band was made to match her engagement ring, and both rings had engraved details on the sides.
The bridegroom chose a classic, domed white gold wedding band for himself, and our hand engraver replicated the pattern from the bride's ring, making it fit the wider man's wedding band. This is one of the many details that the couple will remember about their wedding -- even more so, since their rings will be worn and enjoyed every day, long after the cake and flowers have become just a memory.
A BEAUTIFUL MAKEOVER
Before
Our customer wanted her ring to have a makeover. She had originally wanted trilliant-shaped blue topaz gemstones, and her center diamond had a small fracture.
After
We suggested recutting her center diamond. A new mounting with two new blue topaz gemstones ("they match the color of my husband's eyes, so this way I always have him with me"), a newly-sparkling center diamond, and -- voila! A very beautiful ring and a very happy customer.
"I'm so in love with the ring! Jim was really happy with it as well. I've gotten many compliments...!"
YOU CAN DESIGN YOUR NEXT RING, RIGHT HERE IN OUR STORE!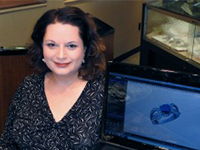 Spend some time looking at design possibilities on our in-house CAD system.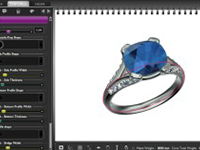 See your design in 3-D, and try different combinations of gemstone size, shank style, width, and many other details.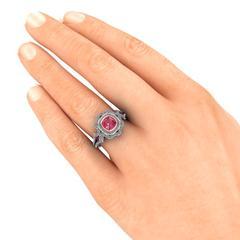 You can even see what your ring will look like on a "virtual" hand.